Improve your vehicle's security, comfort, style and safety with

tintex

car window tinting services.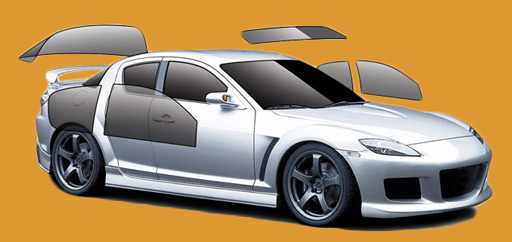 Benefits of window tinting:
Benefits of
tintex
History of tinting
Science of tinting
Application
Legal
Invented in the 1960's, the benefits of automotive window tinting were immediately obvious. Originally made from polyester, there are now thousands of different brands and materials from companies around the world.
The darkness of the tint is measured as VLT – Visible Light Transmission . Light is polarized as it passes through the thin film and, depending on the VLT percentage of the tint, it's intensity and energy is reduced. Other characteristics are the ability to completely absorb UV light and to minimize optical distortion by having good refractive qualities.
Brief description of the customer experience at

tintex
: (Photo?)
Although the MOT does not test for the darkness of your windows, you can be stopped by the Police and prosecuted if your windscreen or side windows are too dark for UK regulations.

tintex
will always keep you on the right side of the law.